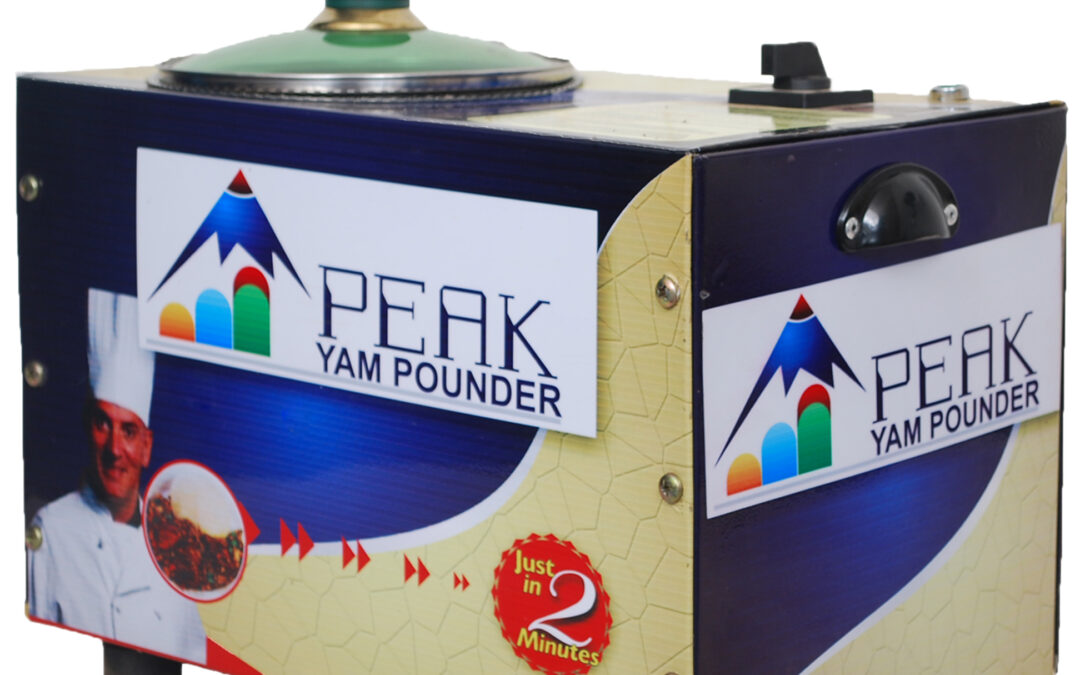 We Produce the best Yam Pounding Machine in Nigeria, we are the yam pounding machine manufacturer. Enjoy your pounded yam at its peak.
Are you looking for a way to get a quality yam pounding machine manufacturer or the best yam pounding machine that can be used for pounded yam, fufu, and plantain? Look no further as I introduce you to the manufacturer of the best pounded yam machine in Nigeria, Peak Yam Pounder. You will also get the best yam pounding machine price in Nigeria from this company.
The manufacturer offers a peak yam pounding machine for sale online, meaning you can conveniently purchase your Pando machine online and get it shipped to you. Peak Yam Pounder Pound Yam in less than 2 minutes. All you need to do is boil the yam, plug the machine into the socket and in less than 2 minutes your pounded yam is ready.
Peak Pounded Yam Machine is, also, available in a specially customized design as a gift item for your friends and well-wishers. You can present the Yam Pounder as a gift for Birthdays, Marriages, end of Year awards, and gifts to Very Important Personalities (VIPs)…
Peak Yam Pounder makes pounded yam to be served hot with a delicious traditional soup, garnished with stock fish, turkey, and meat to accompany the food. Could you, just imagine how Peak Yam Pounder gives you just that? It tastes just like pounded yam from mortar and pestle, Smooth, with no lumps, and portable. Peak Yam Pounder is the best quality guaranteed. The machine is very, very durable. Peak Yam Pounder is the best Yam Pounder, it is globally accepted by Nigerians, Nigerians in the United Kingdom, United States of America, and Africans who eat pounded yam. It's also very perfect for restaurants, eateries and schools canteen.
The technology used is indigenous in design, concept, and performance to ensure you enjoy the quality of pounded yam at all times. Peak Yam Pounder is original, No.1 in AFRICA in terms of quality and durability and it is generally regarded as the Best Pounded Yam Machine in Nigeria.
There are various types and ranges of peak yam pounders you can select from. Below is the range:
1. Peak Standard Home Size,
2. Peak Family Size,
3. Peak Single Industrial Size,
4. Peak Dual Industrial Size.
Yam Pounding Machine Manufacturer ensures your Pounded Yam is MADE EASY, SIMPLE, AND AT ITS PEAK…
Hygienically, Peak Yam Pounder is recommended to every household, restaurant, and hotel so you don't eat contaminated pounded yam exposed to dripping sweat and mucus from the body of the person doing the pounding. When you are considering the best yam pounder product in Nigeria, think of Peak Yam Pounder.
You can get some important information from Yam Pounding Machine Manufacturer.
Peak Plantain Pounder is designed for special people that cannot eat pounded yams due to their nature. This machine can be used to pound plantain for up to 8 persons at a time. Peak Plantain Pounding Machine is durable and affordable. It can also be used for pounding yams and potatoes. Peak Yam Pounding Machine price is affordable.
Peak Standard Home size is a pounded yam machine that is rugged and durable. It can be used to pound for a home or house of 1 to 4 persons at a time depending on how they can eat. You can also, use Peak Yam Pounder Machine for pounding Plantain and Fufu.
Peak Family Size produces the best quality pounded yam at its peak in less than 2 minutes for family consumption. It's your best choice to prepare pounded yam for your family because it can pound for 2 to 10 people at a time. It's the perfect alternative to the traditional mortar and pestle.
Peak Yam Pounder Machine is the easiest and quickest method of preparing Nigeria's local delicacy known as POUNDED YAM. This yam pounding machine is a must-have for every household because it's every kitchen essential. The working class wives and mothers are best friends when it comes to taking care of their families.
You will have your pounded yam looking hot and fresh with no worries. Peak Yam Pounder assures you of a mouth-watering meal of pounded yam best served with local soups like egusi, afang, efo, or okro soup. The new improved Peak Family size is mainly for a married couple and their children. A family of up to 10 people can use it at a time comfortably.
QUALITY AND FEATURES OF PEAK YAM POUNDER
1. Peak Yam Pounder is durable
2. Unbeatable performance
3. Easy to maintain
4. Affordable
5. Well-tested and Reliable
6. Produces Truly Nigeria Pounded yam
7. Better than pounded yam from mortar and pestle
8. Pound yam in less than 2 minutes
9. No stress involved when pounding
10. It is Hygienics
The pounding machine price can be found on the product website.
When you are thinking about how to venture into or expand the restaurant business, Peak Industrial Yam Pounder is the way forward to attract and retain your customers as far as quality pounded yam is concerned.
Peak Industrial size is useful for large production of pounded yam in Hotels, Restaurants, Schools canteens, and Eatery places.
Yam Pounding Machine Manufacturers
BENEFITS OF PEAK INDUSTRIAL SIZE TO RESTAURANTS
Industrial Yam Pounding Machine is what you need to attract and retain both new and existing customers as far as quality pounded yam is required to satisfy them in your restaurants and hotels business.
Some of the benefits are:
1. Peak Industrial Size Yam Pounder helps to increase the quality and quantity of your pounded yam at all times.
2. It discouraged your workers not to waste your yam when pounding.
3. Industrial size pounded yam machine enables you to meet your customers' or clients' demands within a short period.
4. Your customers are no more afraid of eating contaminated pounded yam (food) because there is no more drop of sweat from the person(s) pounding the yam.
5. You will enjoy an increase in sales as the machine produces high-quality pounded yams in less than 2 minutes.
6. It brings customer satisfaction and a good reputation to your hotels and restaurants.
7. The best of it all, is that it brings more customers, more sales, and more profit to your business.
There are two types of Industrial capacity sizes of Peak Yam Pounding machines. These are Single Industrial Size and Dual Industrial Size.
The Peak Yam Pounder pounds your slices of yam very well and makes sure there are no lumps. All you need to do is, add your slices of yam and a little quantity of water and leave the rest to Peak Diamond Yam Pounder Family size, in less than 2 minutes you have yourself a solid pounded yam. Peak Diamond Yam Pounder is effortless, easy to use, stress-free, and durable.
If you want to become our Distributor, kindly call the Yam Pounding Machine Manufacturer on 08089484311; or 08036299750 for further discussion.
We recommend Peak Yam Pounder to every household, restaurant, and hotel in Nigeria.
We are always available to ensure you enjoy quality pounded yam at its peak. Click the LINK below to get to the main page.