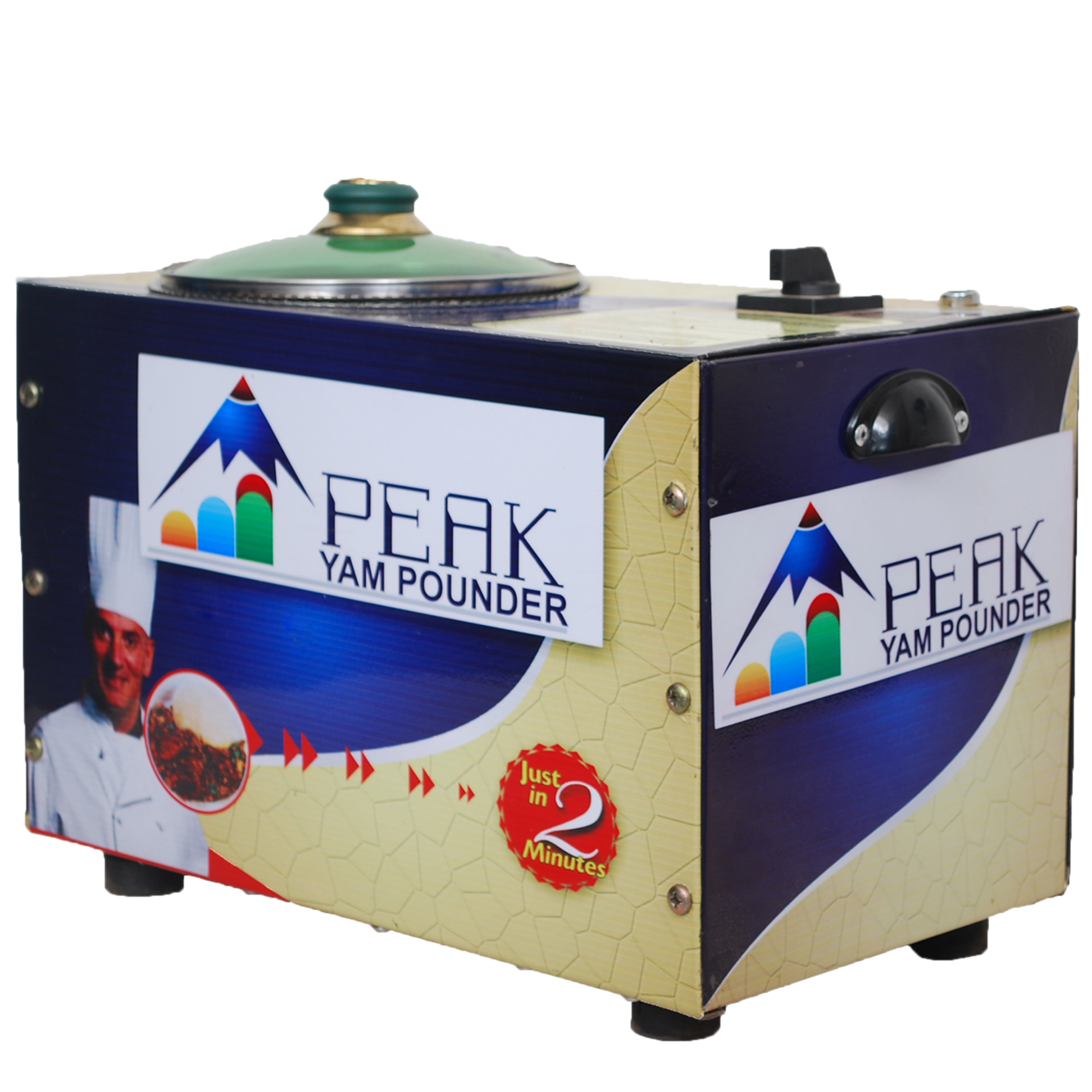 HOW TO CLEAN THE POUNDING CHAMBER (POT):
Gently clean the pot with soft sponge and dry it with clean handkerchief without detaching the pounding pot from machine. Make sure water is not pour inside the machine during the cleaning process.
After cleaning, put a drop of cooking oil on the side of pounding blade (cross-iron inside the pot). It will soften the pounding blade during next day pounding.
CALL US TODAY TO MAKE YOUR ORDER:  
We are looking forward for good business relations with you.
IF YOU WANT TO BECOME OUR DISTRIBUTOR, PLEASE CALL 08036299750; 08089484311.
To Place An Order, Please Call 08036299750; 08089484311
USERS INSTRUCTION:
1. Boiled yam for pounding should not be over-boiled (especially for new yam).
2. When introducing yam into the pounding chamber, make sure water do not accompany the boiled yam into the pounding chamber.
3. Switch ON the Power button knob and allow machine to run for 30 seconds.
4. Repeat at interval of 30 seconds until desired texture is attained.
5. You can add water to the body of pounding chamber but not to the pounding yam directly.
6. Remove your pounded yam with plastic scooper.
WARNING:  
• PLEASE, keep the yam pounding machine away from children!
• Standard Home size and Family size are for household use only AND not for Restaurants, Hotels or Business use.
• Use Single Industrial size and (or) Dual Industrial size for your Restaurants and Hotels businesses.
DURING POUNDING:
Over pounding can make pounded yam to draw like rubber. To avoid this, pound between 1 minute to 90 seconds, OFF the machine & check the food texture/quality. If it's not done, ON it again for the next 30 seconds, OFF and check/touch the food. Repeat this until you get the desire quality.
While pounding, please support the cover with your hand.
Thank you for using Peak Yam Pounder.
PRODUCT WARRANTY:
If your yam pounding machine become defective due to factory error within 3 months from the date of purchase, we undertake to repair the product(s), provided:
1. The product is to be return at the buyer's cost to Peak Diamond Multipurpose Ltd or our Authorized Dealers with evidence of purchase details.
2. The product has been purchased for yam pounding only and not for or as Flour Mixer.
3. The product has not been misused or has not been carelessly handled or willfully damaged or damaged due to accident or abnormal power surge.
4. The product has been operated or maintained in accordance with the users instructions.
5. Repairs have not been attempted by persons other than our support service personnel.